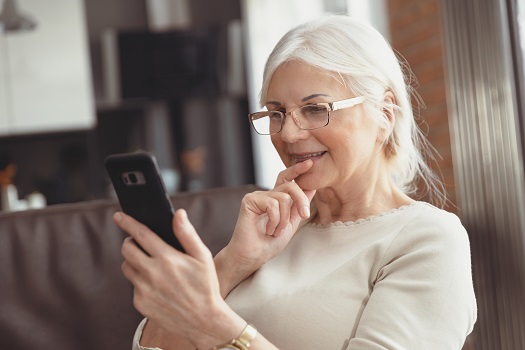 Seniors may need to spend long periods inside to protect their health. They might need to shelter at home to avoid exposure to viruses going around their communities or while recovering from illnesses. During these times, seniors still require socialization, and they can connect with people using these online resources.
1. Take a Virtual Class
Many seniors rely on classes for older adults to help them meet friends outside their homes. If your senior loved one cannot attend in-person classes, virtual courses are a wonderful alternative. Online classes are available on just about any subject you can imagine. Your loved one can learn to paint, practice dance skills, and work in some exercise with groups of people using video services.
2. Join an Online Interest Group
Many organizations offer opportunities for people to connect online with others who share the same interests. For instance, some libraries host virtual book clubs, and seniors can often find hobbyist groups online. There are groups that pertain to politics, community improvement, and specific career fields. Your loved one might also want to join a support group if he or she lives with a challenge such as Alzheimer's.
If your loved one has been diagnosed with a condition such as dementia or Alzheimer's, his or her online activity may need to be supervised closely, and a home caregiver can help. Families looking for top-rated home care service providers can reach out to Home Care Assistance. From respite care to specialized Alzheimer's, dementia, stroke, and Parkinson's care, there are many ways we can make life easier for seniors and their loved ones.
3. Set Up Social Media Accounts
Facebook, Twitter, and Instagram are just a few of the most popular social media sites seniors can use. Your loved one might need help getting started using these platforms, and you may need to make sure to go over the basics of Internet security. Once your loved one is all set up and understands common social media etiquette, he or she can feel free to text, post, and chat away with the people he or she loves. Your loved one can also expand his or her reach to people he or she has lost contact with over the years and even make a few new friends.
4. Send Emails to Friends & Family
Email is still a great way to communicate. Many seniors prefer to send emails, which are easier to use for longer messages, and they get a boost from seeing new messages in their inboxes. Consider helping your loved one set up a list of email addresses he or she can use to stay in touch with friends and family members. If your loved one has difficulty with typing, check out the latest voice dictation software for getting messages sent out.
A home caregiver can monitor your loved one's online and physical safety when you need to take a break from your caregiving duties. Whether you need respite from your caregiving duties or your aging loved one needs 24-hour care, Montgomery, AL, Home Care Assistance can meet your family's care needs. Our dedicated caregivers are available around the clock to provide transportation to doctor's appointments, ensure seniors take their prescribed medications, and help with a variety of tasks in and outside the home.
5. Participate in Forums
Internet forums are available through traditional websites as well as apps. These forums may be open to the public, or your loved one may need to meet certain criteria to be able to participate. For instance, neighborhood forums are great places for seniors to meet new neighbors and stay on top of what's happening near their homes. These are often closed to people who don't live nearby, which can increase your loved one's online safety. 
Using the Internet safely for socialization is just one of the issues aging adults must navigate in today's modern world. Seniors can face a variety of challenges as they age, many of which can be mitigated with the help of professional in-home caregivers who provide high-quality home care. Montgomery families trust Home Care Assistance to help their elderly loved ones age in place safely and comfortably. If you need professional home care for your loved one, reach out to one of our Care Managers today at (334) 593-3988.