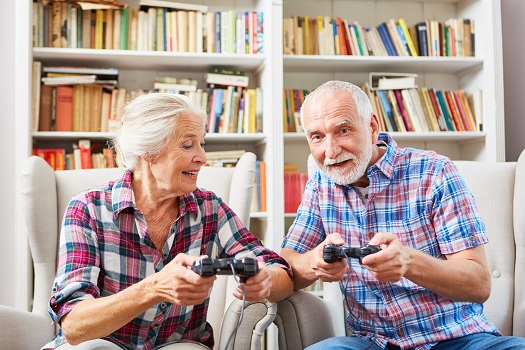 With age, the body experiences many changes, but this doesn't mean your senior loved one should become inactive or less social. It's important to adapt your loved one's favorite games to his or her mental, physical, and emotional capabilities. This makes the activities more fun and enjoyable. Here are some sit-down games your loved one should consider playing, whether he or she has limited mobility, is disabled, or is simply looking for games to enjoy while sitting down.
1. Tennis Ball Race
This game increases muscle strength and hand-eye coordination. Your loved one won't use racquets when playing this game. Instead, he or she will use two tennis balls to pass around. The objective is to pass one ball as fast as possible so it can catch up with the other ball. Whoever ends up with both balls in their hands will be out of the next game. 
With the help of professional caregivers, seniors can enjoy their favorite games and activities at home. If your senior loved one needs professional in-home care, Home Care Assistance is here to help. We are a trusted provider of respite and 24-hour care, and we also offer specialized Alzheimer's, dementia, Parkinson's, and stroke care for seniors.
2. Boggle
The point of this stimulating word game is to find as many words as possible within a sequence of adjacent letters. The person who finds the most words is the winner. Playing this sit-down game can keep your loved one's brain stimulated and sharp, boost his or her thinking and memory skills, and stave off dementia and Alzheimer's disease. Boggle is a game that requires seniors to be creative and spontaneous.
3. Keep-Away
Using a large beach ball, your loved one can toss the ball over the head of the person who has been deemed "it." The objective of the game is to keep the ball away from the person who is "it" and to avoid becoming "it." The good thing about this game is that a senior with visual impairment can also participate by simply attaching bells to the large beach ball. 
4. Card Games
If your loved one has limited mobility, he or she can still participate in card games. Spades, bridge, and hearts are just a few of the card games your loved one can play while sitting at a table. There are also card games he or she can play on a computer or mobile device. Card games provide cognitive stimulation, stress relief, socialization, and other health benefits.
A home caregiver can be a wonderful game-playing partner for your loved one. In Montgomery, home care service agencies can be a great boon to seniors. With the help of the caregivers at Home Care Assistance, your aging loved one can lead a happier and healthier life. We offer a revolutionary program called the Balanced Care Method, which encourages seniors to eat nutritious foods, exercise and socialize regularly, and focus on other lifestyle factors that increase life expectancy.
5. Musical Ball
Players of this game need to sit down in a circle and pass around a big beach ball. When the music is played, the ball must be passed around. The player holding the ball when the music stops will be given a point. The player with the least number of points at the end of the game will win. Your loved one can increase his or her overall strength and agility when playing musical ball.
6. Name that Tune
This is another musical game that can be played while sitting. Players need to guess the name of the song being played. The idea is to guess as many songs as possible to earn points. The person with the most points at the end of the game is crowned the winner. This game can boost your loved one's energy levels and possibly spark past memories. 
7. Video Games
Although some video games require physical interaction, there are a wide variety of games your loved one can play while sitting on a couch or in a chair. Playing video games is a great way to reduce depression and enhance vision. Your loved one can also increase social interaction by playing video games with other players online or in person. 
Seniors with limited mobility and other health conditions may require assistance in and outside the home. Living with serious health conditions can make it challenging for seniors to age in place. However, they can maintain a higher quality of life with the help of professional live-in care. Montgomery seniors can benefit from assistance with meal prep, bathing, transportation to the doctor's office, medication reminders, and much more. Trust Home Care Assistance to provide high-quality compassionate professional care for your loved one. If your loved one needs help with the challenges of aging, call one of our compassionate Care Managers today at (334) 593-3988.