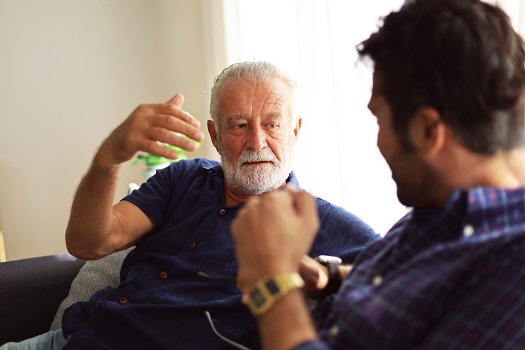 When you get to the point where you're giving a senior loved one advice and guidance on a regular basis for his or her own good, it's usually done with the best of intentions. Even so, you may be met with resistance if you have an older family member who's not naturally amenable to this type of input. There could be other issues involved as well. If your efforts at meaningful communication haven't been entirely effective, here are five tips to consider that can enhance the quality of your interactions with your elderly parent.
1. Have Patience
Realize your loved one may need some time to process what you're saying before he or she responds, especially if he or she has dementia. If this is the case and you're not patient, your loved one may become frustrated or agitated. Even if dementia isn't an issue, pay attention to facial cues and body language to see if what you're saying is registering. Place yourself in your loved one's shoes and give him or her a moment to comprehend and respond before assuming you're being ignored.

Trained caregivers who have experience in communicating with seniors can be a fantastic resource for family members. Families looking for top-rated Montgomery in-home care providers can reach out to Home Care Assistance. From respite care to specialized Alzheimer's, dementia, stroke, and Parkinson's care, there are many ways we can make life easier for seniors and their loved ones.
2. Pick the Right Time to Talk
Some older adults are more receptive to conversations at certain times of the day. Your loved one may also be less attentive if he or she is distracted. Increase your odds of having productive conversations by looking for times when your loved one is in a better mood and more likely to be focused on what you're saying.
3. Keep Things Simple
Seniors sometimes have difficulty following in-depth conversations as they get older. Respond to this challenge by getting to the point as quickly as possible, and break down more complex topics into multiple conversations. At the same time, treat your loved one with respect by not overly simplifying things to the point where it comes off as unintentionally condescending or insulting.
Professional caregivers with training and expertise in elder care can often identify the sources of seniors' communication issues and respond effectively and compassionately. Certain age-related conditions can make it more challenging for seniors to age in place safely and comfortably, but Montgomery live-in care experts are available around the clock to help seniors manage their health. Whether your loved one is living with dementia or is recovering from a stroke, you can trust the professional live-in caregivers from Home Care Assistance to enhance his or her quality of life. 
4. Actively Involve Your Loved One in Decisions
You're more likely to have communication issues with your loved one if you routinely make decisions involving him or her without his or her input. Even with relatively minor things like deciding what day of the week to set up a doctor's appointment, giving your loved one a say may make him or her feel more in control and comfortable.
5. Get Some Assistance
If your loved one is your parent, you may regularly run into communication roadblocks if he or she has a natural tendency to discount any advice coming from his or her child. If you believe this is an issue, get some backup from siblings, aunts, uncles, or respected family friends. There could also be a medical reason for your loved one's communication and comprehension difficulties, especially if you've never had prior issues when communicating with him or her. If you suspect this might be part of the problem, the type of assistance necessary may need to be provided by:

• Your loved one's regular doctor
• A speech or occupational therapist
• A specialist to determine if there's an undiagnosed condition that needs to be addressed
Caring for a senior loved one can be challenging for families who don't have expertise or professional training in home care, but this challenge doesn't have to be faced alone. Family caregivers can turn to Home Care Assistance for the help they need. We provide high-quality live-in and respite care as well as comprehensive Alzheimer's, dementia, stroke, and Parkinson's care. If you need professional care for your senior loved one, Home Care Assistance is just a phone call away. Reach out to one of our Care Managers today at (334) 593-3988.